Good Afternoon Company Girls! I was a little busy going to the beach with daughter-in-law, Jenn and grandsons William and Samuel to post this morning but everyone is napping at the moment so here's my chance!
It's been a very good week, albeit a little tiring....okay, really...I'm 60......what do you want from me....I do realize just why the good Lord made our bodies to NOT reproduce at this age....good grief....toddlers and new borns can wear you out!
Samuel has been a very good baby....so far.....I think Ryan and Jenn are waiting for the other shoe to drop, as the saying goes. He sleeps well and is even content to just lie in his bassinet when he's awake. Once Jenn got him staying awake long enough to nurse, he started to do very well at that too.
William , the explorer,...always on the go....tries hard to be a good big brother...bringing him his blanket when he needed to sleep...or a book to read....unfortunately Samuel didn't always appreciate his thoughtfulness or exuberance with which William presented his gifts!
I will be glad to get home to be with my hubby again but I will miss these little guys. A couple of mornings William and I would go down to the bay to see the tugboats at the pier.....the weather was perfect and we had some special times....even though Parry Sound is a very hilly place...everywhere you walk there are hills to go up and down so my leg muscles got a work out as well as my pitiful arm muscles pushing the stroller....man, I'm out of shape!
Now, if I can do this again, I'll try to put some pictures up....
Samuel.....and William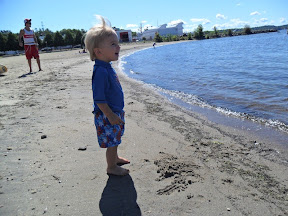 - Posted using BlogPress from my iPad