Once again, haven't posted for a few weeks but I was determined to post with good news...so here it is!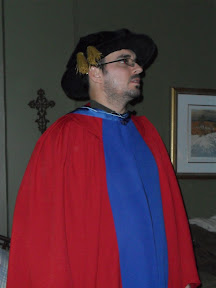 This is my eldest son, Ryan....tomorrow he is scheduled to graduate with his doctorate in theology ...... Dr. Ryan Wettlaufer....isn't that fabulous! After about 15 years of post secondary education...he's finally done!
It has been a very long journey...in the beginning hubby and I, and some of our kids drove Ryan and his best friend James, out to Briarcrest College, in Sakatchewan to begin 4 years of schooling for his B.A., then we drove him to a little town outside of Boston, to work on his M.A. At Gordon Conwell, two years after that he got married and started his work on his Ph.D. at a college affiliated with the university of Toronto, back up here in Canada....if nothing else our kids get us traveling!
The last number of years have been very long....for Ryan...for his wife Jennifer...and for the rest of us , his family, as we have supported, encouraged and prayed that he would have the success and endurance to finish the race. Over the years Ryan has had to take many different jobs to support his family, to provide for them, especially as it grew to include William and Samuel, their sons. Right now he's been working with a local contractor, building houses...he's learned so much....I don't think there's anything that he can't build or fix...just a couple of weekends ago hubby and Ryan went to our trailer and ripped up the rotten flooring and replaced it with new. Now I know that hubby is capable but his strength is in numbers...he is an accountant...but knowing he had his son beside him to help with the job gave him the confidence to get the job done...and they did a great job!
There have been many times I have felt great pride in all my children...whether it be graduations from high school,college, or the military, or overcoming a difficult life experience....all the different aspects of their lives that have shaped them into the people they are today.....people that we are glad to say....'ya, they're our kids....ya, we were crazy to have nine of them...but we couldn't imagine what our life would have been like without them'......well, maybe a little quieter and without as much drama....
But tomorrow, it's Ryan's day....he's worked hard and long for it.....we are not only proud of his academic accomplishments but we are proud of the man he has become....a husband, a father, a carpenter (just like his papa), ....and a good son.
Well done.....we will watch with joy in our hearts and probably tears running down our cheeks as you walk across the stage tomorrow to claim your prize.....well done!
The pic above is him modeling his cap and gown that he must wear tomorrow...in true mother fashion, I told him that he'd better shave tomorrow!